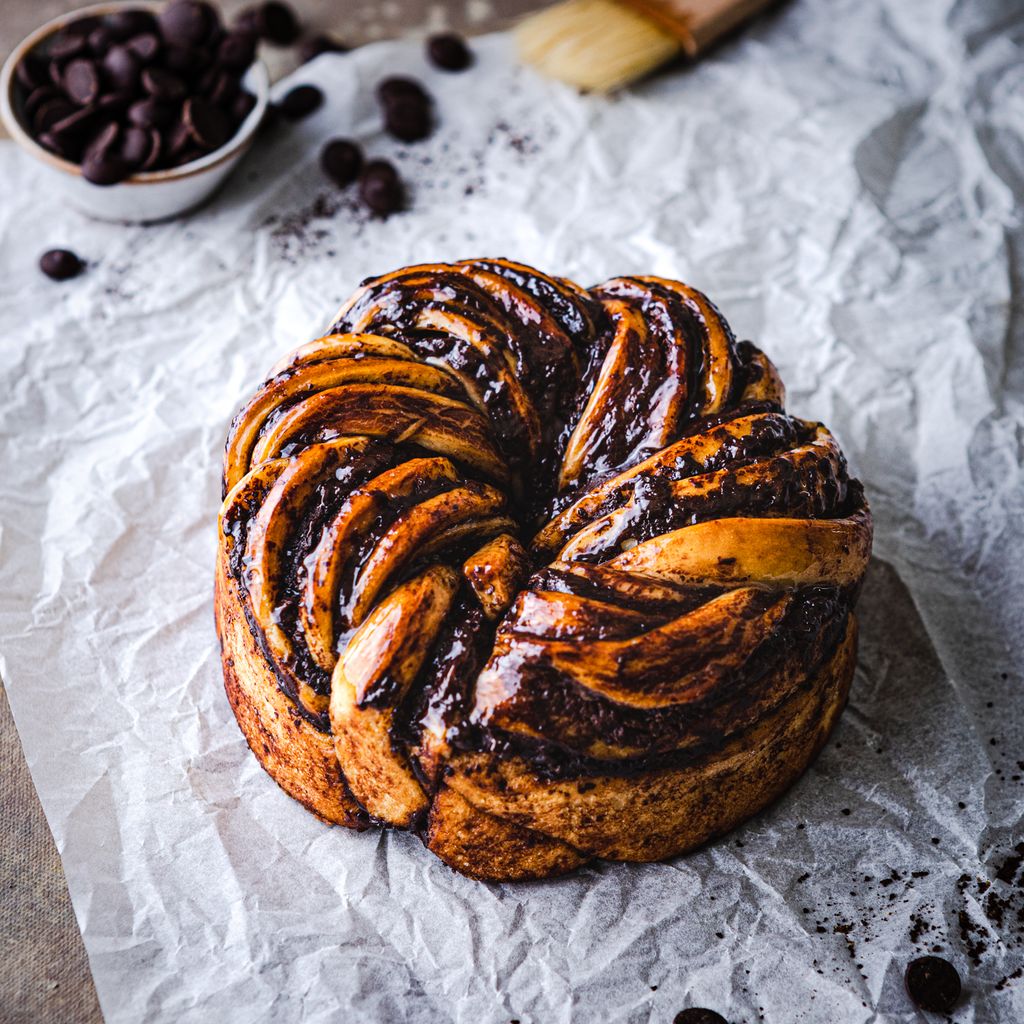 宅配僅限雙北市
【預購】Heritage 聖誕巧克力巴布卡結禮盒 Chocolate Babka Roll Gift Box - 12/3~1/9出貨
|商品介紹|Introduction |
使用來自法國AOP認證的奶油製作鬆軟的麵團,在麵團中鋪上Nutella榛果巧克力醬與比利時黑巧克力,然後手工編織成 6寸花圈的形狀。濃郁的巧克力醬與介於麵包與蛋糕之間的麵團口感,非常適合當作早午餐、搭配一杯你最愛的咖啡一起享用!

Using AOP certified butter from France, Nutella, and Belgian dark-chocolate chips, all of which are spread over the dough before braiding it into a 6inch rich & decadent babka kringle. The sweet, buttery yeast dough yields a texture that is between bread & cake. Great for brunch, dessert, or to nibble with your favorite coffee, this babka also make the perfect gift for your friends & family!

|食材|Ingredients |
Callebaut 比利時黑巧克力、榛果巧克力醬、法國進口奶油、法國麵粉

Belgian 70% Dark Chocolate, Nutella, French Butter, French Flour


| 保存期限|
肉桂結每天早上新鮮烤出,當日食用為佳!
常溫: 兩天 | 冷凍: 五天

The Babka Roll is baked fresh every morning by our chefs, for best taste, enjoy it within 24 hours or keep at room temperature for 2 days or 5 days in the freezer. Defrost until room temperature & bake for 1-3 minutes at 180 degrees.


|訂購備註|
1. 12/3 起出貨至1/9
2. 每日限量出貨40盒,滿單後則不再接受訂購。
3. 每日中午11:30出貨
4. 有附上Heritage禮盒,Calligraphy Artist Teresa Chen 設計的巴布卡結卡片,袋子。
5. 紅色緞帶及奶油乳酪醬可加購。
6. 不提供外縣市宅配服務。

|Details|
1. Deliveries & In-Store pick-ups start on 12/3 at noon everyday until 1/9.
2. Limited to 20 boxes per day
3. Includes a gift box, a custom designed card by Calligraphy Artist Teresa Chen, a packet of cream cheese frosting & gift bag.
4. Red ribbon & extra packets of cream cheese frosting are available for purchase as add-ons.
5. This item cannot be shipped outside of Taipei or New Taipei.